It has been my honor to design each of the following sites,
and to continue serving as webmaster to them all.
-McNeil Johnston
---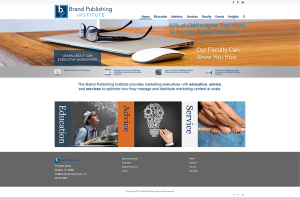 Brand Publishing Institute is the industry leader in the creation, management, dissemination and curation of marketing brand publishing nationwide.  With a second-to-none faculty that reads like a marketing who's who, this firm is authoritative in the art of Brand Publishing.  Built on the WordPress framework, the site features many content-heavy pages of valuable information parceled using best practices of both the Brand Publishing and Web Development industries.
reference: Stephen Diorio, CEO
www.BrandPublishingInstitute.com
---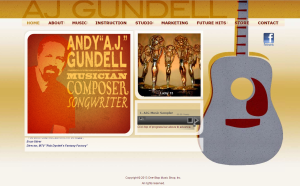 A.J Gundell, Musician, Performer, Producer, Entrepeneur and Multi-Emmy-Winner… this is the flagship site of a truly unique artist and businessman.  A WordPress-based site, the build is based on a highly unique design suggested by the client (not a stock theme, or anything resembling one), and features multiple media presentations both in video and audio.
reference: Andy Gundell
www.ajgundell.com
---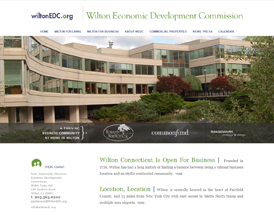 WiltonEDC.org is the official site of the Town of Wilton, CT's Economic Development Commission.  My first foray into 'Government Work', this has been a very enlightening experience.  The design was completed in collaboration with Marge Hemminway of Maida Design, and serves as a platform for the WEDC and the Town of Wilton in their efforts to responsibly grow the town which I'm proud to be a resident of!  The site is a sophisticated WordPress implementation featuring the latest streamlined look with dynamic features that enhance simplicity of navigation and facilitate the presentation of a large amount of information in an intuitive way.
references: Wilton First Selectman Lynne Vanderslice,
WEDC CoChair & Project Coordinator Vivian Lee-Shiue
www.WiltonEDC.org
---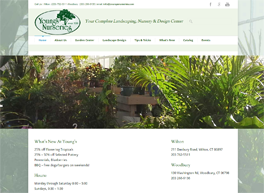 Young's Nurseries, the premier landscaping design and supply company of lower Connecticut,  launches a new site redesign with a greatly increased content base. New features include 'Young's Tips', a compendium of landscaping, plant and tree wisdom accumulated over Youngs' 80 year history. Database driven catalog pages, along with streamlined navigation and interactive features make this an appropriate web presence for the area's premier Landscaping, Nursery and Design Center!  Recently rebuilt from the ground up to accommodate Google's new mobile-friendliness standards.   Part & parcel of the new LightSites-spearheaded marketing initiative at Young's is a co-branded Google+ page and YouTube Channel!
reference: Dave Gindek, Vice President/Secretary
www.youngsnurseries.com
---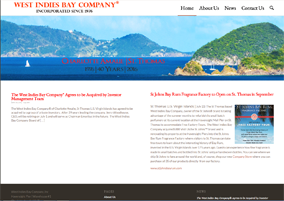 West Indies Bay Company is an investment consortium revitalizing industry in the U.S. Virgin Islands.  Their site is a simple, elegant calling card for what promises to become a vibrant, growing portfolio of companies.
references: Chris L. Fuentes
www.westindiesbayco.com
---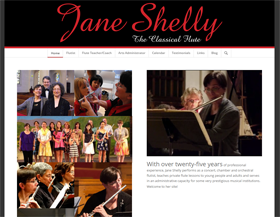 JaneShelly.com is the site of flautist and piccolo virtuoso Jane Shelly.  Jane is a long-time friend, and an extremely accomplished administrator in addition to being a fine musician.  She served as Managing Director of the Norwalk Symphony here in Connecticut and is currently working in that capacity on the left coast!
reference: Jane Shelly
www.JaneShelly.com
---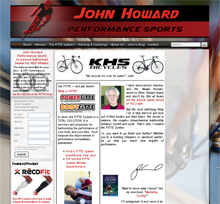 John Howard Performance Sports has launched its re-design with a striking new look, featuring translucent scenic backgrounds and dynamic content befitting its powerful subject – cycling legend John Howard.  The site was comissioned so that the owners could self configure the state-of-the-art online store, in addition to managing all web content in the informational portion of the site.
This site carries a secure server ceritificate, a dedicated server webspace, fully functional shopping cart and much, much more.
reference: Ralph Walker, CEO, John Howard Performance Sports
www.johnhowardsports.com
---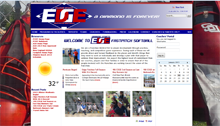 Diamond Sports EDGE Fastpitch Softball has it's new home here! A custom site built on the WordPress platform, the owners were given a striking and dynamic alternative to the mass-organization league sites that many sports organizations default to.  The site features an image gallery, a dynamic news feed and calendar for team events, and a very special 'Coaches' Portal' – a password protected section through which College Coaches can view custom built profiles of the players along with their up-to-date statistics.
reference: Greg Zaccaria,
www.CTEdge.orgwww.ctedge.org
---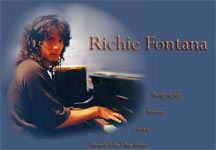 Richie Fontana – Rock n Roll drummer and songwriter  is the star of this site. The life and times of one-time KISS side man and creator of the new album Steady On The Steel is featured in vivid imagery and text.
reference: Richie Fontana
http://www.richiefontana.com/
---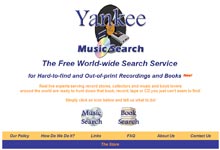 Yankee Music Search is a straightforward portal to a very valuable service – these guys find rare and out-of-print recordings and books. Not some automated impersonal cyber-search, but real people working for real people – how about that!
reference: D. Fountain
www.yankeemusic.com

---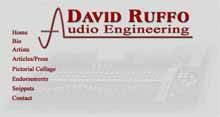 David Ruffo, world-class audio engineer, is featured here in his official site. This very straightforward offering features the ultimate in simple, no-nonsense web-design!
reference: David Ruffo
www.davidruffo.com
---
Site rescue… Recently, I've been asked to 'rescue' a number of high-profile sites from the control of webmasters with whom the client's relationship has become adversarial. In such a situation, where the former webmaster has become uncommunicative and will not cooperate with the client, I'll attempt to affect a reconciliation so that the transfer of control of the site can be made smoothly, but failing that, the existing site can be captured and moved to a new server, thus restoring full control of the site and its content and management to the site owner.
---
And then there's LightSites… Like many web builders, I've been so busy attending to the needs of my clients, I've woefully neglected my own site. You're looking at LightSites' long overdue refit: Built on the robust and universally supported WordPress framework, It features an advanced dynamic architecture driven by a PHP/MySQL CMS engine, and features a few other goodies – Enjoy!